Welcome to

Rafael E. Cordero, DDS PA
At Rafael E. Cordero, DDS PA, we provide quality periodontal care for a variety of problems that patients can have. While it is important to keep up regular brushing and flossing at home, some people still fall victim to periodontal "gum" disease. When it comes to the teeth, people need to care for more than just the enamel of the teeth. The structure that holds up the teeth is just as important as the enamel. Even though a general dentist can provide regular checkups, we can help treat the advanced levels of periodontal disease. We can also replace infected or missing teeth with dental implants. We go through the proper training and utilize the specific tools to provide patients with the specialty care they need.
Our Team
Our team strives to create a comfortable and welcoming atmosphere for our patients from the moment they walk in the door to any follow-up appointments. We understand how patients may not enjoy the idea of receiving specialized dental care. However, not seeking treatment will only let the condition get worse. If periodontal disease or another condition reaches too advanced of a state, then an extraction may be the only option. When our team intervenes as soon as possible, we can help the teeth remain healthy and avoid the worst case scenario. Our team will continue to provide guidance and support when it comes to proper care of your teeth after the procedure.
About Us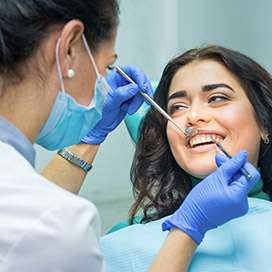 Our Services
As a periodontist, our goal is to help keep a patient's teeth healthy and treat a variety of oral health issues. Since people are not always on top of proper oral hygiene at home and regular dentist visits, they will end up needing specialized services. While we want to preserve as much of the natural tooth as possible, there is a chance that we will need to remove one tooth in order to save the rest. Our services include implant dentistry, All-On-4, mini dental implants, digital dentistry, oral surgery, sinus augmentation, aesthetic tissue grafting, bone grafting, gum grafting, implant supported dentures, gum disease prevention and smile makeover. We also offer laser dentistry, sedation dentistry, cosmetic dentistry and tooth extractions.
View Our Services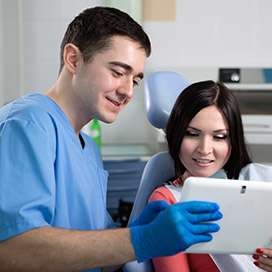 Patient Information
The first step in the treatment process is to call and schedule a consultation. After, the patient will need to fill out a "New Patient Information Form" that covers the patient's medical history, current condition, insurance, allergies and any other pertinent information we need to know. Once we gather this information, we will conduct an examination of the patient's teeth in order to determine the most effective treatment plan. We will take the time to go over all of the details with the patient and answer any questions the patient may have beforehand. We can also continue to provide support after the procedure and may schedule a follow-up appointment to ensure there are no other issues.
Patient Information